News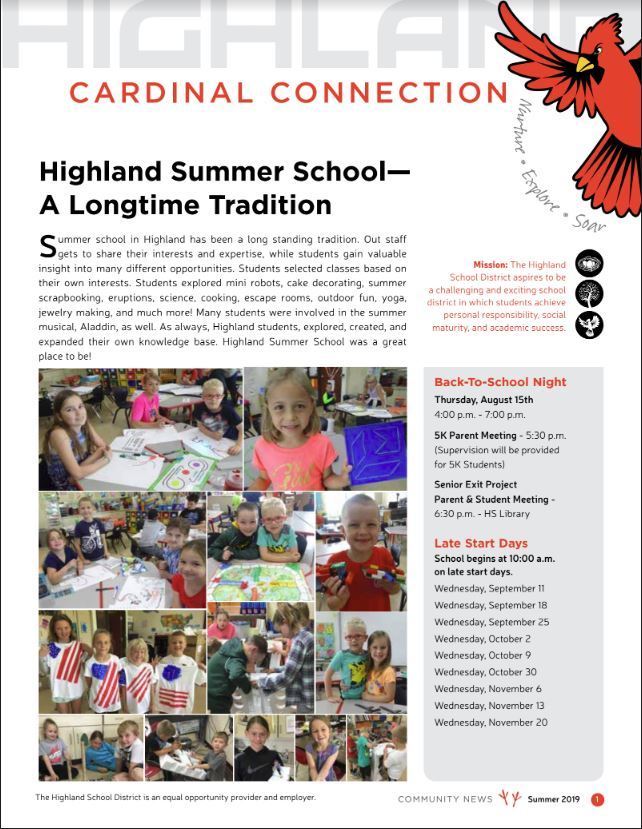 Check out the latest edition of the Cardinal Connection. Summer school highlights, Spain trip, and other happenings at Highland Community Schools. Click here to see full...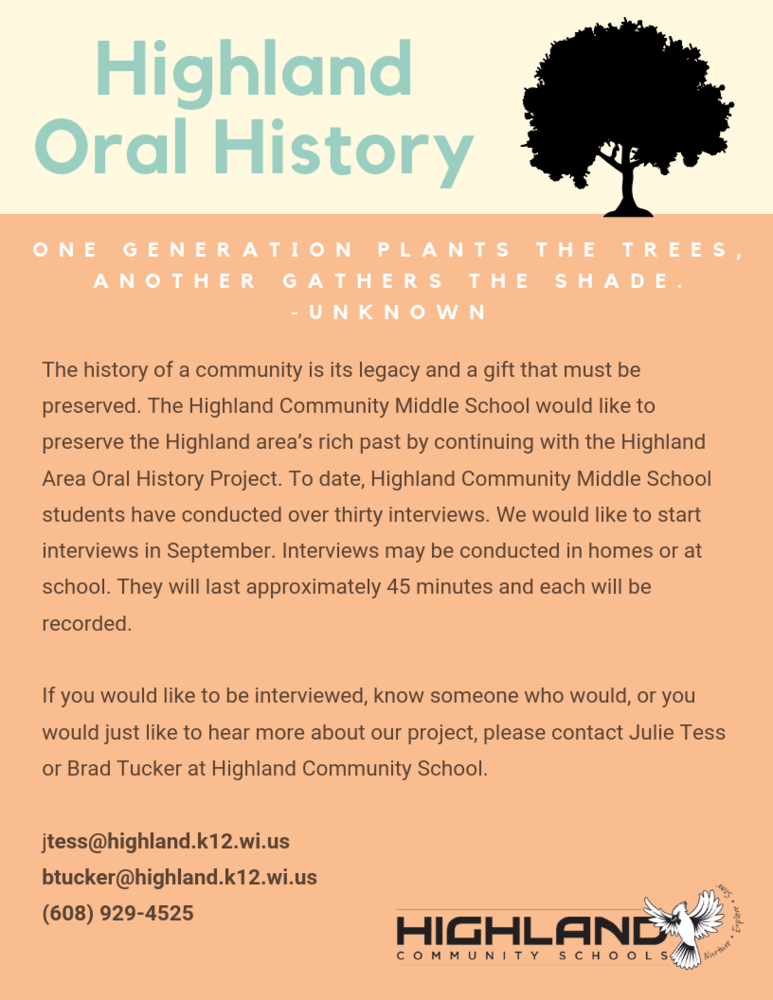 The Highland Middle School is seeking volunteers for Oral History projects! Help us preserve Highland's history while supporting cooperative learning in the middle school!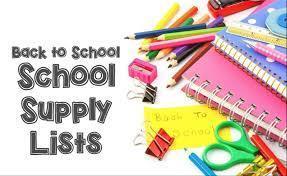 Believe it or not school is right around the corner. Newsletter is right around the corner, but if you want to get a jump on school supply shopping you can find the link...
SEE ALL NEWS
LIVE FEED

Kim Mensch
2 days ago
Announcements: Good luck to the football team against Wauzeka-Steuben tonight! Game time 7:00 pm.
There will be a meeting on Tuesday at 3:15 in Mrs. Halvorson's room for any HS students interested in producing the 2020 yearbook. If you can't make it to the meeting, but are interested, stop in and talk to Mrs. Halvorson.
There will be a meeting on Monday after school for 7th & 8th grade girls interested in playing volleyball in the art room.
Freshmen, you have concessions on Tuesday. Sign up for a time to work in the office.
There will be a High School Student Council meeting on Wednesday at 3:15 in Mrs. Hennessey's room.

Highland Community Schools
6 days ago
MARK YOUR CALENDARS! The 4th Annual Athletic Hall of Fame Banquet will be Thursday, September 19th, 2019. We are excited to induct three Highland athletic standouts this year!
view image

Highland Community Schools
6 days ago
Parents,
I wanted to send out a reminder that if you are not on Infinite Campus (IC) please do so as soon as you can.
IC is a great way to check grades, get notifications about grades, and stay abreast of your child's progress here at school.
Thanks,
Mr. Tarrell
view image

Highland Community Schools
14 days ago
If you're looking to order some Highland Football apparel, now is the time! Check out the online store here: https://sportsworld.chipply.com/highland_fb_19
All orders are due by Monday, August 19th at 9:00am.
SEE ALL POSTS